10 second summary
Facebook stories are short videos or images that sit at the top of your news feed for 24 hours. These hold top real estate.
They are a fantastic way to get in front of your audience and further develop relationships with customers.
An opportunity to show your audience behind the scenes footage, direct them to your Facebook page to find out more about an update or to enter a competition, ask questions and run polls to encourage engagement and to better understand them.
READ TIME APPROX 5 MINUTES
Increase your Facebook reach for free!
Did you know, you could be increasing your audience reach for free with Facebook's 'Your Story'?
This feature can be extremely powerful (when used correctly) and with approximately only 10% of Facebook users currently using it, there's no better time than the present to utilise this feature.
Facebook stories are a great way to reach your audience, enhance engagement and get your message out there.
On average, I have around 8 stories daily sitting at the top of my Facebook page posted by friends and business pages that I follow, whereas on my newsfeed there are hundreds of posts. This information alone highlights the importance of employing this feature.
What are Facebook Stories?
You have more than likely seen Facebook stories by now. Facebook stories allow users to share photos and videos on their profile that disappear after 24 hours. When logged in to the Facebook mobile app, they display at the top of the screen (as seen below).
To view a story, all you have to do is tap on it to open the story in full screen mode (as seen below).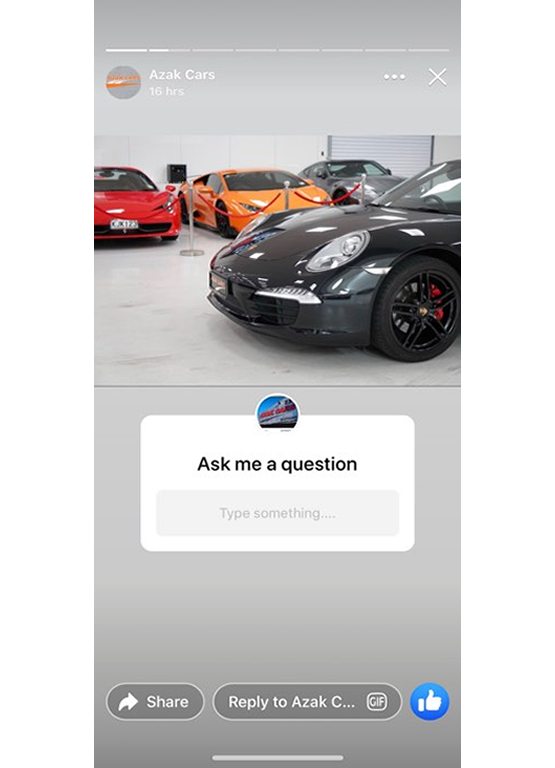 To re-watch a story tap the left-hand side of the screen, and to skip passed a story tap the right. To pause a story, hold your finger down on the screen.
People can also reply and react to your stories, which only you can see.
What is the point in Facebook stories?
Facebook stories hold prime real estate as they sit at the top of the home page, in turn increasing your chances of being seen.
In today's world, being seen on Facebook is becoming more and more difficult due to Facebook constantly changing their algorithm to make reach for business pages more challenging.
Facebook stories are a great way to encourage your audience to take action. For example – you may want to alert your audience of a new vehicle that has just landed in your yard. You could share a photo of this on your story to encourage them to come in for a test drive or to visit your website to find out more information on that vehicle.
If you're running a Facebook competition, share this on your story informing your followers about it and where they can enter (e.g. head over to our Facebook page and enter on our pinned post).
Another effective way of using Facebook stories is by showing your audience behind the scenes footage. This creates an even greater connection with your audience by giving them a look into your brands personality, people like seeing real people!
Facebook Stories vs. Facebook Posts
When sharing a story on Facebook, you need to take a different approach than you would sharing a post on your timeline. Stories are a lot less formal than posts so try keeping these short, sweet and as candid as possible.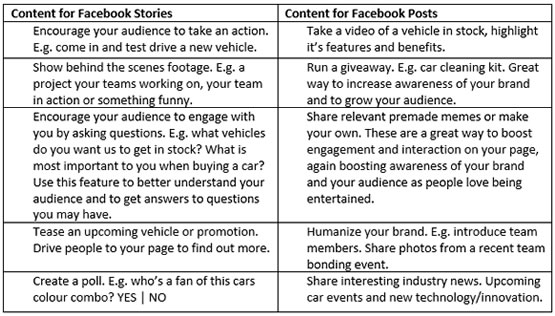 How to create a Facebook Story
Step 1: Open the feature
Open up your business Facebook page and scroll down until you see 'Your Story'. In this section tap on 'Add to Story' (as featured below).
You then have the option to either upload a photo from your camera roll or to take a picture.


Step 2: Create your content
Once you've uploaded the photo you want to use, you have the option to add features such as text, questions, polls, GIFs, emojis and filters to your masterpiece.
To access these features, tap on the icons on the top right of the screen (highlighted in yellow below).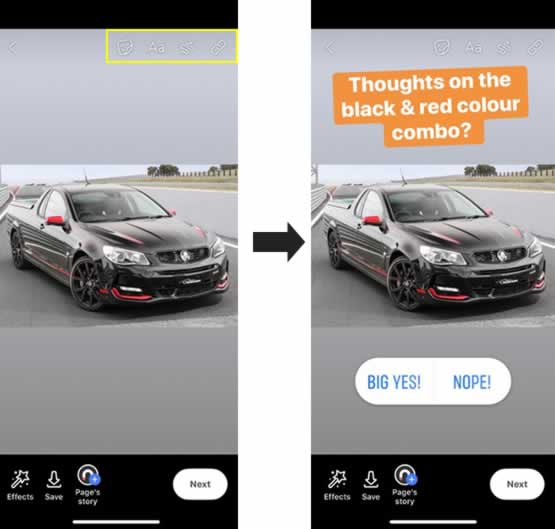 In this example, I have added some text to ask a question, then I have added a poll for people to vote. I suggest you have a play around with the different features to get an understanding of how they work.
Step 3: Add to your story
Once your story is ready to go live tap on 'Page's story' to publish it.
Summary
If you haven't already, incorporate Facebook stories in to your marketing. They're a great way to get in front of your audience and they're free.
If you're unsure where to start, try using some of the story content ideas I gave you above and see how you get on.
Remember, keep your stories short, sweet and candid!
--
Disclaimer:
The Motorcentral blog is intended for educational purposes only. All writers opinions are their own and nothing published on this blog should be interpreted as a recommendation or advice in any way. Motorcentral is also not responsible for and does not verify accuracy of any of the information contained within this blog.
In the event third parties are referenced within this article, Motorcentral is not necessarily affiliated with those third parties.